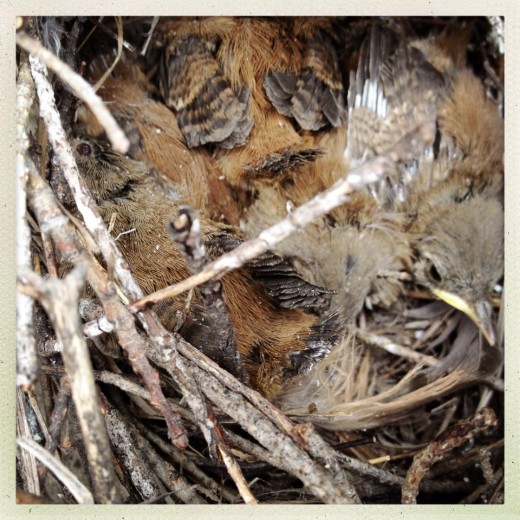 Such a persistent peep coming from the vent box on the camper. The sticks of the nest were poking out the wall. Peep. Peep.
Yesterday the camper was moved from a spot in the woods a mile away, so pretty obviously Mama has no idea of where her wee ones got off too.
Removed the vent cover, pulled the nest out, and then tried to interest our hens in raising a nest of strange Peep Peep Peep machines.
No. Go.
Tried feeding them with a dropper, but as is the way of human intervention, things were just not good. One wee one quickly perished, then another was weak, dropping out.
I had previously scouted a robin's nest, which was occupied with four little ones. But I initially decided not to over-burden Mom. But now, down to only three Peep Peep Peepers I opted to "arrange" an adoption and put them into the robin's nest–it's sort of what cowbirds do.
Two hours later, one remaining Peep Peep Peeper, one more lifeless Peeper, and one meek one. We'll see what morning brings.