Typically I make an annual edition of a valentine and distribute it to (a rather large) list of friends and dear hearts. This year I was traveling during the time when I would usually be manufacturing my valentines, so … instead I hosted a little valentine-making gathering, inviting people to come make use of my wealth of swell materials. Here are some of my own results.
The XOXO valentine made of silver card stock embellished with vintage buttons, glitter, and sign letters. The letters are the ones used for the signs you might have seen on a menu in a bowling alley, and the glitter is the real deal–broken glass glitter that I inherited from Grandma Vera Seather's craft collection.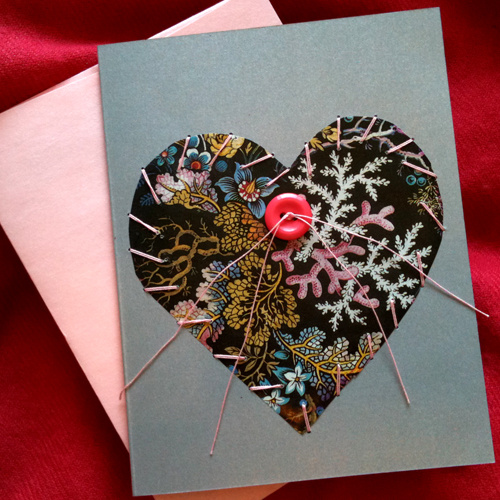 This one is also based on silver cardstock and embellished with a paper heart and vintage, plastic button. The paper is from a collection of 18th century English floral patterns, given to me by my friend, Joy. After swimming in the Caribbean, I was especially attracted to this design with the coral in it. The heart is sewn on with pink, vintage crochet cotton that I inherited from Auntie Evelyn.
Here's a second card using the English design paper. This one I layered with glassine paper, to send the vibrant design into the background to better show off the three different vintage buttons. Again, I have used Auntie's crochet thread to tie on the buttons. To do this tie, I hold the button into place, and then poke through the holes and through the card. Then, I thread my needle and pass down one hole and back up the other, tying off with a square knot and trimming the bits of thread to uneven lengths.
This is a simple valentine, using a playing card from the hearts suit. Here, I've used the 7 for my trial design; the "real" version would feature an Ace, King, Queen, or Jack of hearts. I used a slightly textured piece of office copy paper, folded in half and then half again to make a notecard. I used crayons to make a thick line around the edge and then lightly colored the paper to blend. A bit of glassine paper overall helps blend the elements together.
Yet another fairly simple design, but this one relies upon some large, vintage blank checks that I had in my collection. These are dated "195_". The backing is some heavy-weight scrapbook paper that I had on hand and the card and the hearts are edged with crayon. I like how crayon adds some color without being too stark.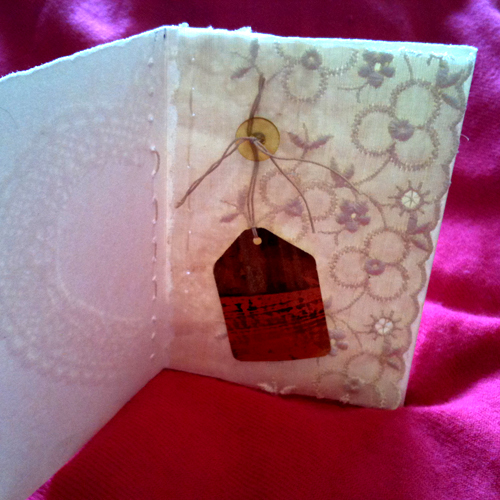 Exterior and interior shots of my most "feminine" card. The paper stock is a high-quality printmakers paper with an ivory color and a brushed finish. To the front, I added the outside edge of a paper doily, applied with Elmer's glue. Then I poked randomly but mostly evenly spaced holes near the fold and threaded some linen thread through these, leaving the ends loose. I was going for white-on-white and lots of texture.
The inside has a snip of wide, embroidered lace that I acquired at a church rummage sale in St. Louis. I believe this lace is from the late 1800s. I used the linen thread again to sew on the button (1950s?) and add a hang tag. The tag is cut from salvaged gold-washed Japanese paper, and is rubber-stamped "Love" on the reverse.
When people ask how I come up with my designs, the best I can explain is that I select one or a few elements that are attractive to me at the moment and then fiddle with them. Sometimes I add something more, sometimes I change my mind and start all over. But usually, what I make begins with me holding and pondering something, getting a sense of the qualities and attributes, and then working to emphasize those. And always, I remember that there is no "right" nor "wrong" … there is just what I like.
❤ ❤ ❤ ❤ ❤ ❤
I am happy if my designs inspire you, however, they are copyright protected.