Dear Spencer,
We have the rare good fortune of having a large, loving family. This is why you have so much excitement about Christmas.
Our family has a collection of holiday traditions, many of them long-standing. Because the way we "do" Christmas is what you have always known, I suppose it is difficult to imagine that our holiday celebrations are rare, but most families do not have the abundance of love and festivities that we do.
Instead, people have shopping. And drinking. And parties that they must attend, not parties that they want to attend.
And this is where the bah-humbug comes in. People who go about Christmas like automatons, and other people (like me) who hope to poke some sense into them–please, please, please, we say, please act with the real Christmas spirit. Please do not just shop 'til you drop and call it done.
Remember how The Grinch lost his bad attitude, once he had loving people with whom to be festive? That's what we have, but many other people do not.
We have an abundance of small happinesses. We have a multitude of good-memory makings.
We have done the "chores" of Christmas so very many times, that they have become rituals. Even our Christmas-shopping is a ritual, peppered with little rituals. We have such a bounty of rituals. And these are our Christmas wealth.
We are so fortunate.
Love always,
Auntie Lila
---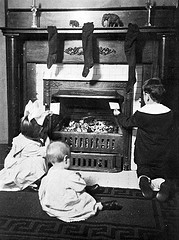 Some of our traditions include:
Making cinnamon rolls with Grandma Sue
Going to Molbak's
Dad unwrapping lights across the lawn & checking for bad ones
Finding the

pickle

on Auntie Pam's tree
Using festive coffee cups
Smashing cookies for Grandma Sue
Seeing a movie with Grandma Wendy
What other traditions can you think of?