So, in a fit of spontaneity, I agreed to run a half-marathon with my niece, Olivia. Take note, that although I was quite the long-distance runner in high school, uh, I haven't done much running for decades. I will ask you to also note, that I was recently diagnosed with fibromyalgia, and I don't have a good handle on how this is for me, I don't know how my body will respond to a running program. I don't know if the exertion will be "good" for me, or if it might cause another bout like I had last year.
But what the heck, eh? I don't have much to lose except my pride–and pride is all mental anyway. Olivia and I agreed we'd enter the Tinkerbell Half Marathon, which will be held at the end of January, 2012.
However, by the time we tried to sign up, the race was full. FORTUNATELY ;) 'Cause seriously, I don't know if I can get this body of mine to run 13 miles … not in the near future, for sure.
Also FORTUNATELY, Disneyland is hosting an entire weekend of race events, and we registered for the Never Land 5K. I'm quite fine with that. And I am thrilled with the idea that I could actually go from "couch potato to 5K".
I am also thrilled to be planning to run through Disneyland, at night, in the dark, wearing green, EL wire Tinkerbell wings. Yeah, call me what you may, but to me this sounds like torrents of fun.
So, in spite of my ailments, and the looming possibility that my body might fail me, I am training. I just started using the NHS Couch to 5K podcast, and I'm pleased at how it allows me to train even though I don't have a track at my disposal. (I am essentially running back and forth or round and round my brother's large loop of a driveway.)
This morning we had fresh snow–this was my first run in the snow, but it went fine. Of course, the snow conditions were perfect–crisp, not too deep, not packed down and icy.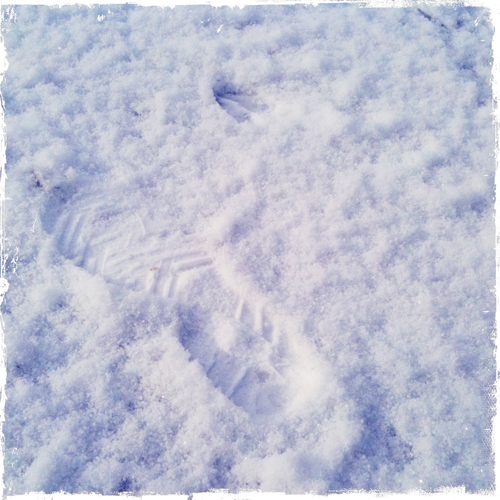 See the wee deer hoofprint? Looking for those as I ran eliminated some of the tedium.
Paradoxically, my race partner was running a half-marathon at the same time I was traipsing in the snow. See the big, blue sky? Yeah, she was running in San Diego. Whatev, right? ;>
Yeah, Olivia is the one in the middle there, wearing a pair of poorly-rendered Tinkerbell EL wire wings that I Photoshopped in.
So, as I write, there are 74 days until our 5K. That should give us enough time to make some real wings to wear.