This afternoon I will pick up the trees and bushes that I ordered through the local Conservation District. (Of course, these plants will be more like sticks and twigs at this point, but I am optimistic for their future.)
So, this morning I woke to see wee snow flakes falling outside my window. This follows on yesterday's sn'ail—snow and hail combined. The skies are gray, and grey. Oh, and there is ice on the little puddles. This weather is getting old, and is such a distressing context for thinking about setting tender plants into the ground. I am conjuring even more optimism.
Trying to stay optimistic that there will be sunshine, warmth, and dry days. The earth already is so wet, with snow melt and the underground springs and rivers that flow so vigorously this time of year; we could use some dry days and something other than gloomy skies. Oh, and a chance for the earth to warm.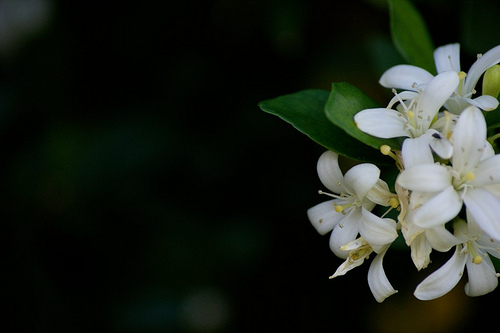 Photo: Mock Orange by gettinmyschnapon and used with Creative Commons license.