I've been short-listed!
Another artist and I concocted an idea for an installation at the upcoming Seattle Erotic Arts Festival, and we submitted a proposal a few weeks ago. Today an email arrives:
I am writing to you to tell you that your submission to SEAF has been put on the short list of works that we are interested in . . . we would like to know more about how the finished pieces might look . . .
Given that we sent them a proposal, and not anything that has already been built, the Co-directors have asked for more details. So today I worked on some sample pieces—bits that I am calling "Presentation Boxes." It's kind of funny, that for years I have been saving swell boxes with a notion that I would someday decorate them (like I did today), and here finally is some impetus to do so.
I have left the exteriors rather ordinary, saving the opulence as a secret surprise inside.
You might recognize these as vintage, cedar souvenir boxes. One was a jewelry box that said "His, Alaska" on the top, and the other is one of the ubiquitous miniature cedar hope chests that were distributed by the furniture maker, Lane. I like how the cedar wood grain comes through the decoupaged rice paper I put on "His".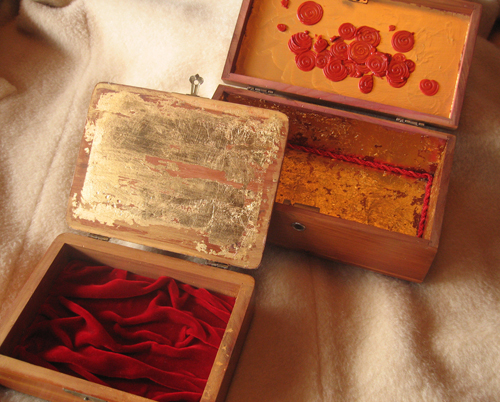 Surprise! Gold leaf, velvet, silk braid, sealing wax.
I hope you can imagine receiving a special treasure in one of these?