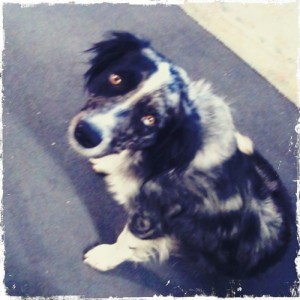 It is about nine thirty at night, very dark and zero degrees outside. The dog has cajoled me into coming outside to play his game, which is kind of a one-sided Pickle in the Middle–where he runs around with his ratty stuffed gorilla in his teeth and we both pretend that I am chasing him to get it. As if! my two-legged human "agility" could have anything on a four-legged Australian Shepherd–a clever breed whose leaps and swerves are genetically programmed to contend with the unpredictable maneuvers of wandering sheep.
Anyway. He's convinced me to come out and have a round of Gorilla in the Middle, and I'm giving it my best, stumbling in the frozen-crust snow, in the dark. I can't say that it is "pitch black" out, because above the charcoal gray of the snowbanks, I can see the pitch black silhouettes of the pine trees, against the backdrop of a babillion glowing stars.
Well, I am well-bundled-up against the cold, and really the occasional tumble and fall in the dark isn't a big deal, but after fifteen minutes or so, I've done enough chasing. I plunk myself onto a snowbank on the incline of the hillside, and indulge in those pine tree silhouettes, and the stars above them.
It is all very nice.
And then. And then I start composing in my head, like I can sum this up for Twitter or Facebook. My mind gets all mental, and I am no longer just experiencing the crisp temperatures and the glory of the night sky. I am (dammit) thinking about it.
Great.
So much for that perfect place and time.