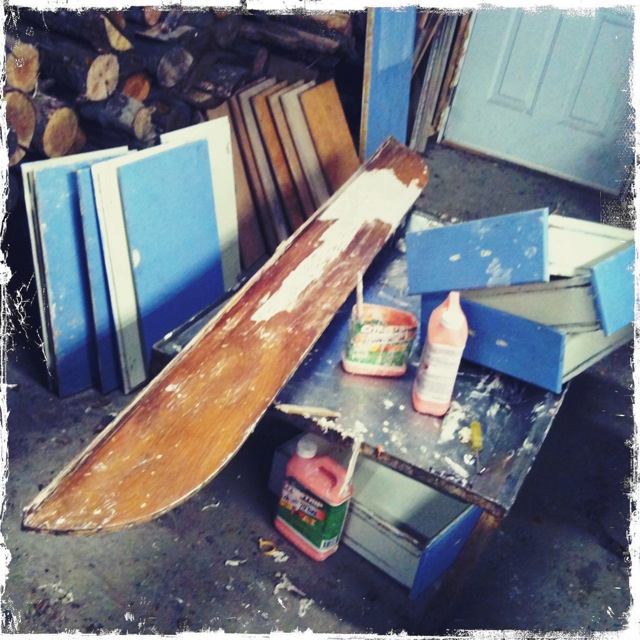 This week is Refinish The Cabinets Week. I have the workshop all to myself. It's quite warm (which the trailer is not right now)–the perfect spot to tackle the paint that is on these birch-veneered doors and drawers.
In two plus days I've gotten through seven of eleven door fronts, with an additional six drawers and three small sliding doors yet to go. It's slow work, and sometimes tedious, what with digging paint out of small crevices.
But. I am freshly encouraged about my refurb the old trailer project. The cabinetry is going to be very, very pretty once it is fully refinished, and seeing it come to light renews my vision for the interior of this old aluminum travel trailer.
And a renewed vision is invigorating.
There is so much more to be done. Polishing the aluminum inside (not to a mirror shine, but so that the different aluminum panels blend together nicely.) Re-plumbing the water and the propane lines. Flooring. Getting appliances: heater, water heater, stove, oven, fridge/freezer. Curtains. Cushions. Accouterments.
Of course there's still the bigger parts–water and power on the property where I will park the trailer. Yesterday, I talked to the local well driller, and he said prices are down right now, so that's good to know.
But everything in it's time. This week, focus on the cabinets!
Oh, and that long, surf-board looking piece in the photo is a shelf that goes in the curve-walled "living room" at the hitch end of the trailer.