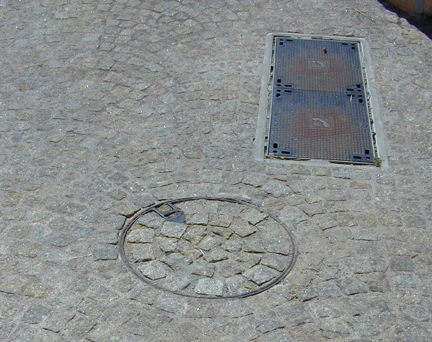 Hanging out up on Piedmont Avenue there is a guy with a long gray beard who goes by the name of CarWash. He is friends with Mary, at least that is what Mary says. Mary also says that CarWash saved her life and that she knows that he didn't murder that woman–the one who was killed over on Manila Street coming home one night from the BART station.
Mary says that her girlfriend saved her life, the night she cut her wrists. Mary was in the bathtub, and heard her girlfriend calling, 911. Mary's cut her wrists seventeen times, and pulled up her sleeve to show me–pale traces of scars criss-crossing her weathered skin. One night an angel came to Mary, all mother of pearl and golden hair, and the angel told Mary that she had three purposes in life, so Mary asked what they were. But the angel would not tell her.
Mary's check is late, and she has three dollars to live on until it comes. I thought, "Now comes the pitch," but Mary never asked me for any money, just told me about how she feeds her cats and one day some guys tried to get her drunk and took her into the park–behind some bushes they told her, "Mary, we know what you can do with your mouth." But Mary says, "I'm not a whore," and she told the guys to watch her stuff while she went to pee, and she just left her cat food there and snuck away.
A big round orange fireball sun was setting and Mary kept talking, explaining the settlement she got, even though she didn't sue, and how she wanders the streets while the carpenters are there. "I just got these shoes," she explained, and turned her right foot bottom-side up to show me the wear on the soles, the missing tread that she'd left behind on some sidewalk somewhere.
"Fred told me you are sleeping with my Al," Mary accused. With this accusation she stopped me on the sidewalk, 41st and Broadway. We were a few blocks from Piedmont, where she had been hanging out with CarWash and the guys–just a few benches away from where I'd been dawdling at a bus stop, just watching things go by, listening in on the conversations that Mary and her buddies were having. I'd heard Mary go on and on about Al, how he wouldn't see her during the day, wouldn't walk down the street with her, but oh how he would be with her at night.
Mary tells me now, that Fred sleeps with all the women on Piedmont. I assure her that he's not sleeping with me, but Mary just knows that he sleeps with ALL the women on Piedmont, and I guess I've become one of the women on Piedmont. This is not how I expected to settle-in and belong, in my new neighborhood.
This post originally published on my first website, which I built from self-taught HTML, back in the day. I was living in Oakland, California at the time.