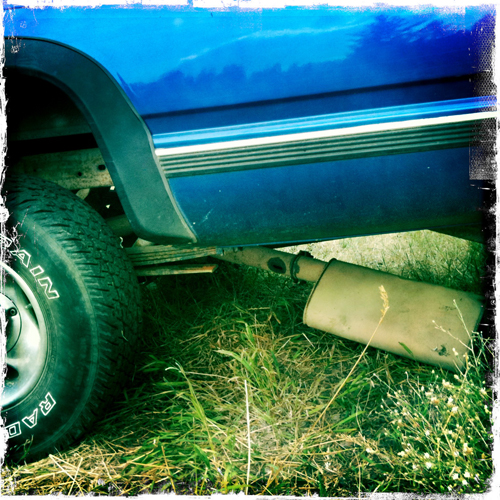 This was pretty much the start of my day today. And it's not even my truck that lost the muffler. So much for my Girl Scout training about leaving things better than I found them. (And by the way, those are my trees reflected on the side of the truck.)
Most of the rest of the day was spent cleaning out sheds and prepping things to sell. I paid a visit to "the bus" which is the old, yellow school bus that I've been using for storage for years. I intended to do some cleaning out of cr*p and organize some more things that can be sold. I ended up doing a bit of that, and then falling out of the back of the bus, a three-foot drop. OUCH. Maybe for you in the morning I'll photograph the bruise on my leg, which I anticipate will be every shade of purple by this time tomorrow.
But on the way back to the house I got to see a doe and a fawn. (That's the doe, leaving the frame on the left.)
And then when I got back to the house it was suppertime. I suggested maybe spaghetti, but my brother said there was a fresh grouse in the fridge, so I changed my mind about having pasta.