The short answer is: I am moving. The question being: Where have you been, Leila?
The actual decision to move was quite sudden, but the underlying reasons have been simmering for quite awhile−frequently causing me to be absent from my usual haunts.
For awhile I entertained the hope that I could contact each of my friends personally and share my news, but as reality has revealed itself, it is now clear that a more impersonal (but no less heart-felt) public announcement is going to have to suffice. My move date approaches with the speed and stealth of Mercury, and last night I learned my moving truck is arriving even sooner than planned …
So, I love you, but I am moving to my property in eastern Washington. (And I apologize, I really do, for the sudden and impersonal announcement.)
My new home will be on the property that I own, free and clear, and I will move into a structure that I own, free and clear. I like the notion of this. I have never had a home that was mine, truly mine, and I want one. I want to feel like I can do whatever I want. I want to feel like the work that I do is mine, and isn't something I will eventually lose to a landlord or in a divorce.
This is the structure that I will move onto my property. It is a 1957 Streamline trailer that I bought from my brother for the equivalent of what I pay for one month's rent in Seattle. Admittedly, it needs a lot of love.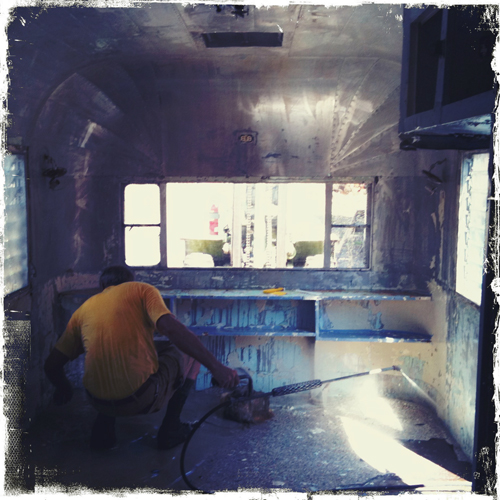 She's been gutted some time ago, and painted on the inside a few times. We're working on peeling off the paint, which is easy in some spots and "impossible" in others. I'll also have to add some appliances, do some plumbing, and set up a solar power system. And, by the time I have that all done I suspect winter will be falling and I'll need to come down off my mountain.
But I'll cross that bridge when it arrives. In the meantime, for the next few days I am packing up my apartment and buying a few supplies. Then my siblings will arrive to help tote and load and drive my (way too many) possessions 300 miles east.
In a very interesting twist, the move is slated to happen on the one-year anniversary of the final fracturing of my marriage. I like that timing.