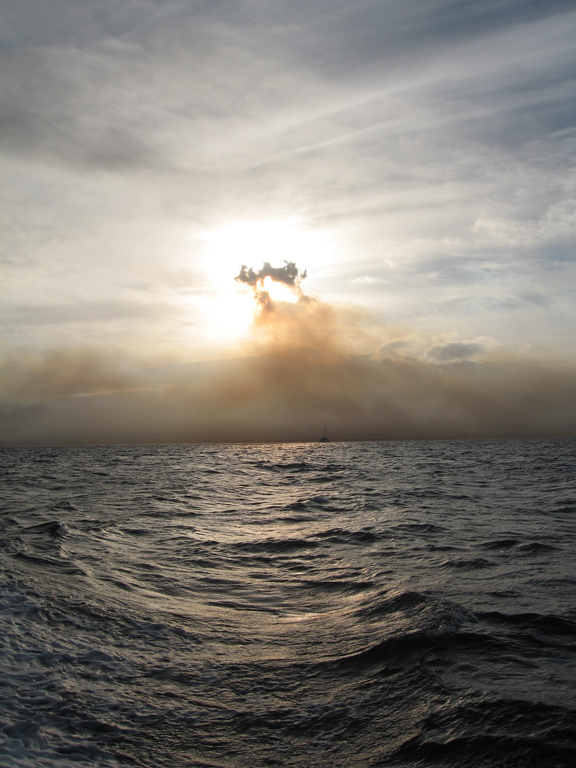 The alarm this morning rang at 5:27, although I woke about a quarter hour earlier. The aim was to be at the Buzz's Wharf by 6:30 and there was a half hour drive ahead of us. So, early to rise.
A bright white sliver of moon floated above in the dark, a fine halo around it. I believed it a sweet blessing upon our day ahead.
The agenda for the day was snorkeling and diving; if the weather gods smiled, we would head for Molokini, but the forecast wasn't supporting our aim.
But we boarded our boat and the captain presented alternatives and after a brief overview orientation–mostly re: safety–we set sail for seas other than Molokini.
Before long, there was a whale sighting off the port bow, a calf and a large, frisky humpback whom we naturally presumed to be the mother. She was flipping and flapping and the smooth, wet top of the calf beside her was fresh and beautiful.
Soon we were setting anchor and donning snorkel gear.
The water was said to be 72Ëš, which by my reckoning is cold, even though I wore a wetsuit. But the creatures of the sea were compelling and helped me overlook that my fingertips were numb. Coral, urchins, fish of many sizes and colors.
In time, a vague and odd set of sounds floated into my ears, and I wished they were humpback whale song. Not trusting myself, I compared notes with our guide; she confirmed the sweet, gentle noises were whale song, and my own salt water tears bubbled up to join the water of the sea.