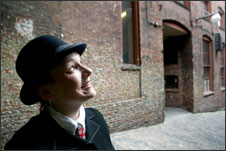 Photo used without permission of the Seattle Post Intelligencer
Seattle's Pike Place Market is well known for "flying fish", a giant bronze Pig, and, The Clock, a triangulation of landmarks which has become a common meeting place for folks gathering in The Market.
Last Thursday night, I gathered there with half a dozen friends and two dozen strangers for something that is much less well known, but much more thrilling, a Ghost Tour of The Market led by Mercedes Yeager.
I've known Mercedes for years, since those four years that I lived in The Market, but Thursday night as she led us through The Market and told us its stories, I finally got to see her in her milieu, and it was a delightful (Halloween) treat.
Her tour I now deem a "Must". Mercedes truly regaled us with story. After more than four years of intimate involvement at the Pike Place Market, and almost fifty years of experience in Seattle, you'd think I would know something of this world. I guess I do. But Mercedes Yeager puts a tasty, sultry spin on Seattle's history.
If you are looking for something to do with those out-of-town visitors, do this.